Arbequina - California EVOO
Regular price
$22.00
Sale price
$22.99
Unit price
per
Sale
Sold out
Description

New Harvest Fall Harvest of 2022 | Acidity 0.17% | Polyphenols 284 | 500mL

This extra virgin olive oil is produced in the Northern Central Valley of California and is made exclusively from Arbequina olives, an olive native to the northeastern region of Spain. 

Description

Everything you need to know about olive oil. What are the different types of olive oil? What's the best EVOO to buy? Is it good for you? Can you cook with it? How do you store it? This easy guide will answer all your questions and more!


Properly stored olive oil is best consumed within 2 years from bottling date.
Shipping & Satisfaction Guarantee

Returns

At The Mediterranean Dish, we want you to feel completely confident and satisfied with your purchase. That's why we offer a 100% Satisfaction Guarantee. If, for any reason, you are not completely happy with your order, we will gladly refund your purchase price. More details.

Please note during the cold winter months, our olive oils can sometimes freeze during transit and cause some of the natural waxes to separate from the oil, causing some cloudiness or floating particles. This is completely normal and does not impact the quality of the olive oil in any way. To thaw, simply leave the olive oil in room temperature. Do not in any way warm up the olive oil in a microwave or put it in direct sunlight. Olive oil is best stored in a cool dark room to preserve its life and quality.

Shipping

We typically ship orders within 1 business day of receiving it. Most of our packages will be shipped UPS or FedEx Ground and will be delivered within 2-5 business days. Occasionally we ship via USPS if the packages are lighter in weight.

A shipping confirmation with tracking info is provided as soon as the order ships. Check you spam folder if you do not see your shipping confirmation, or feel free to contact us at sales@themediterraneandish.com.

At this time, we do not ship outside the United States.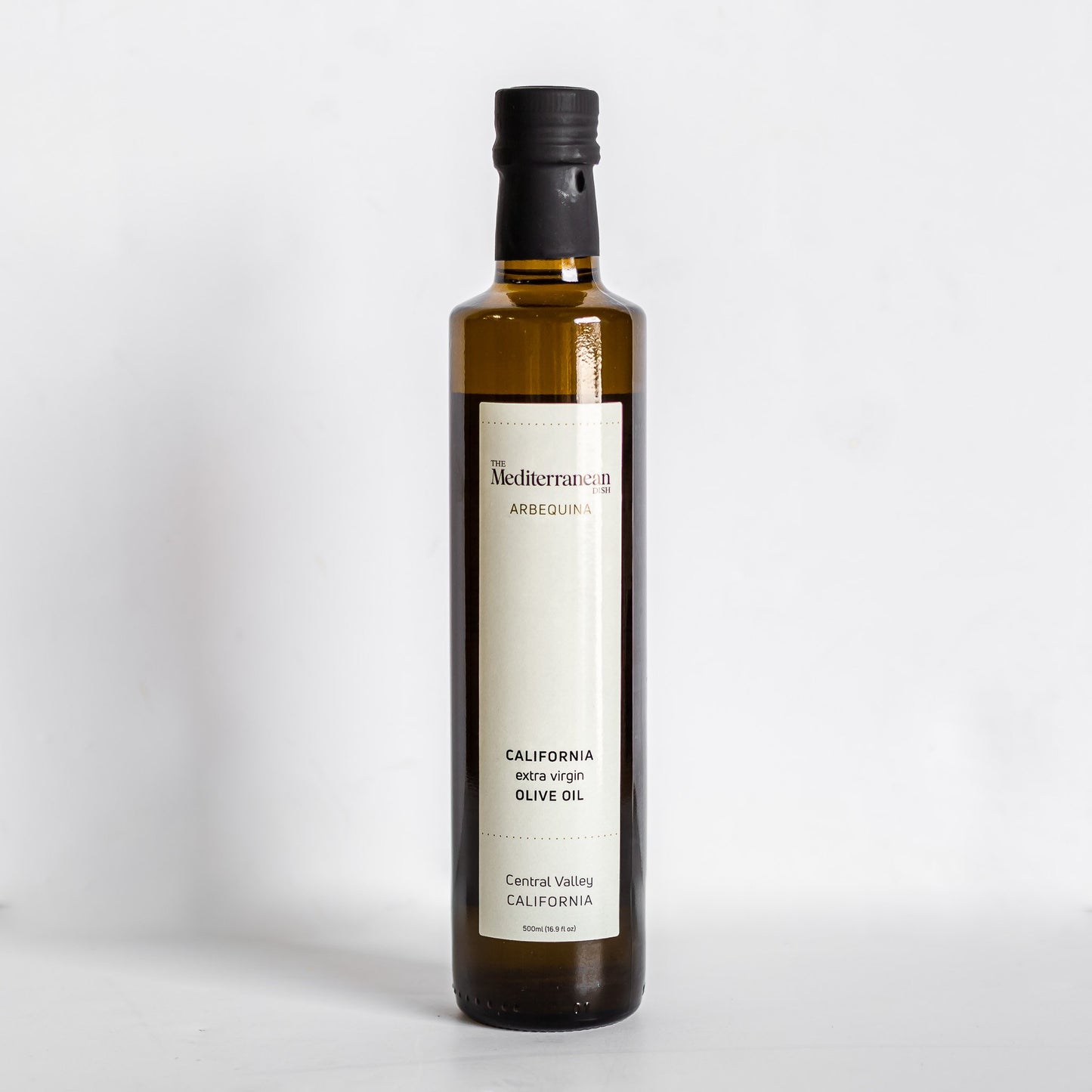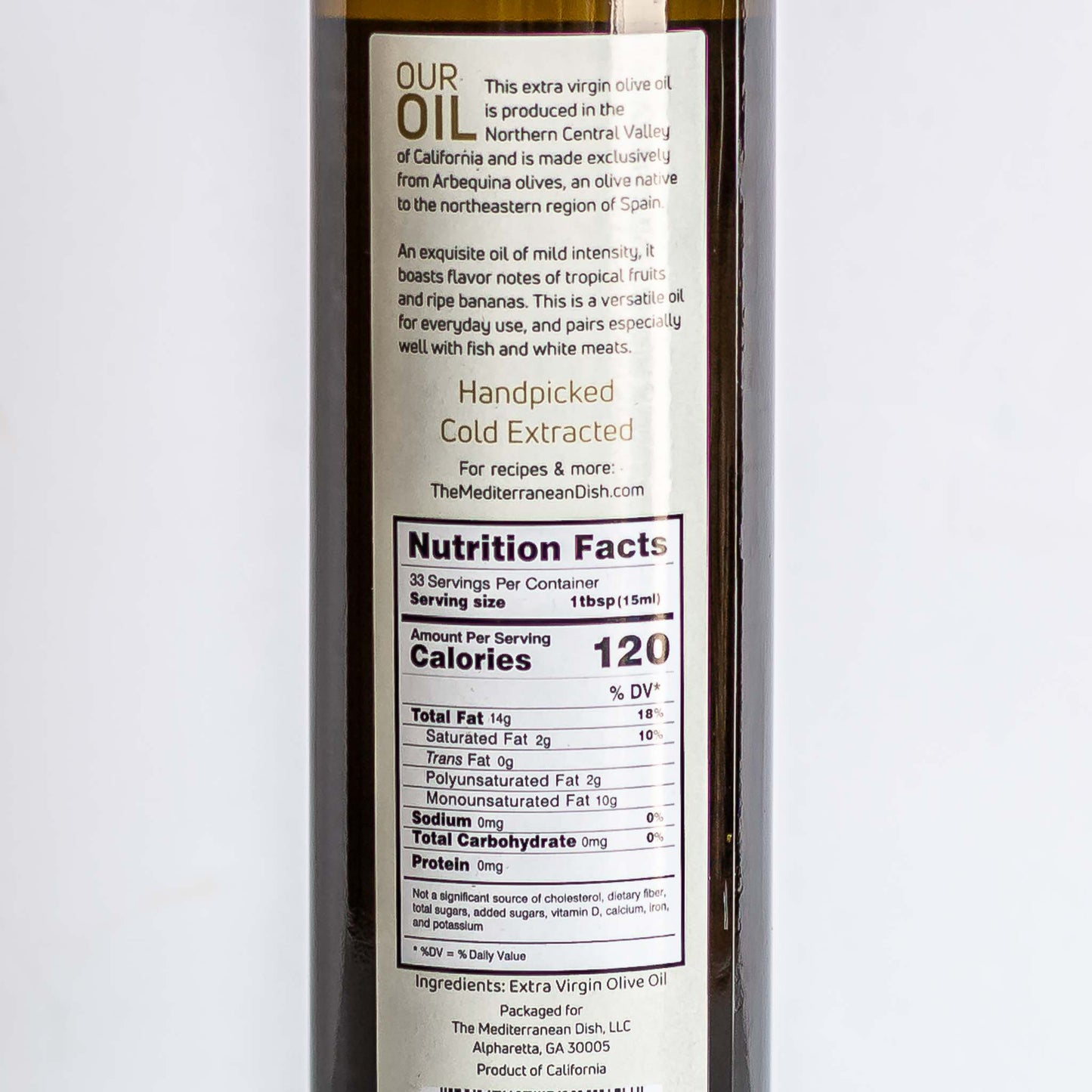 Why buy from us?
High Polyphenols
All our olive oils contain higher polyphenols than the average store-bought olive oil. This means our olive oil is loaded with antioxidants and powerful anti-inflammatory properties.
Early Harvest
Our olive oils are produced by olives that are harvested early before they ripen, ensuring they have bolder flavors and higher levels of polyphenols.
Single-Source
Our producers partner with small family estates from a single region, producing a far superior olive oil than average.
Excellent Quality
I don't love olive oil, not any kind. I didn't grow up with it and it has been hard to incorporate a flavor I don't like into my food. But this Arbequina - California EVOO is such good quality that I am fine using it for improving my diet. I can FEEL the difference in my body, and it's a good one. Thank you for such high quality products. They truly make a difference.
Arbequina Sun
Very pleasant olive oil and not over-powering on food.This has been a good buy.
Delicious!
This Arbequina is exactly the olive oil I was hoping it would be! I poured about a half-teaspoon, tasted it and was delighted! I want an olive oil that tastes "green" and this is it! In my book, this is perfect! A winner!
Absolute Life-Changing Olive Oils
Before finding The Mediterranean Dish, I knew absolutely nothing about the flavor differences, important harvesting dates, and health benefits of olives and their oils. Truly, it is a life-changing book of knowledge to have switched from cheap store bought to these options you deliver to our door. The food tastes better with an olive oil made to enhance each dish according to our own desires. With several regions to choose from, whether it is peppery, fruity, or to just bring out the flavor of each succulent aspect of the ingredients, we now have a burst of yum in every bite. (I drink an oz every a.m. and use it in my nightly facial as well). These delicious olive oils with the fresh foods of the Mediterranean cooking traditions and some healthy modern fresh, whole food ideas, have truly changed the way I eat, the way I look in my new body, and the way I think. Healthy, Delicious Eating!