Nocellara - Italian EVOO
Regular price
$22.00
Sale price
$22.99
Unit price
per
Sale
Sold out
Description

New Harvest Fall 2022 | Acidity: 0.33% | Polyphenols: 434 | 500 mL

Our Italian extra virgin olive oil is produced from 100% Nocellara del Belice olive variety, cultivated in the ancient city of Agrigento, Sicily. 


Description

This extra virgin olive oil is produced from hand-picked and cold extracted Nocellara olives, which produce an exquisite medium intensity oil. The results are aromas of freshly-picked tomatoes and vegetables, with a mildly bitter and spicy finish.

Properly stored olive oil is best consumed within 2 years from bottling date.

Shipping & Satisfaction Guarantee

Returns

At The Mediterranean Dish, we want you to feel completely confident and satisfied with your purchase. That's why we offer a 100% Satisfaction Guarantee. If, for any reason, you are not completely happy with your order, we will gladly refund your purchase price. More details.

Please note during the cold winter months, our olive oils can sometimes freeze during transit and cause some of the natural waxes to separate from the oil, causing some cloudiness or floating particles. This is completely normal and does not impact the quality of the olive oil in any way. To thaw, simply leave the olive oil in room temperature. Do not in any way warm up the olive oil in a microwave or put it in direct sunlight. Olive oil is best stored in a cool dark room to preserve its life and quality.

Shipping

We typically ship orders within 1 business day of receiving it. Most of our packages will be shipped UPS or FedEx Ground and will be delivered within 2-5 business days. Occasionally we ship via USPS if the packages are lighter in weight.

A shipping confirmation with tracking info is provided as soon as the order ships. Check you spam folder if you do not see your shipping confirmation, or feel free to contact us at sales@themediterraneandish.com.

At this time, we do not ship outside the United States.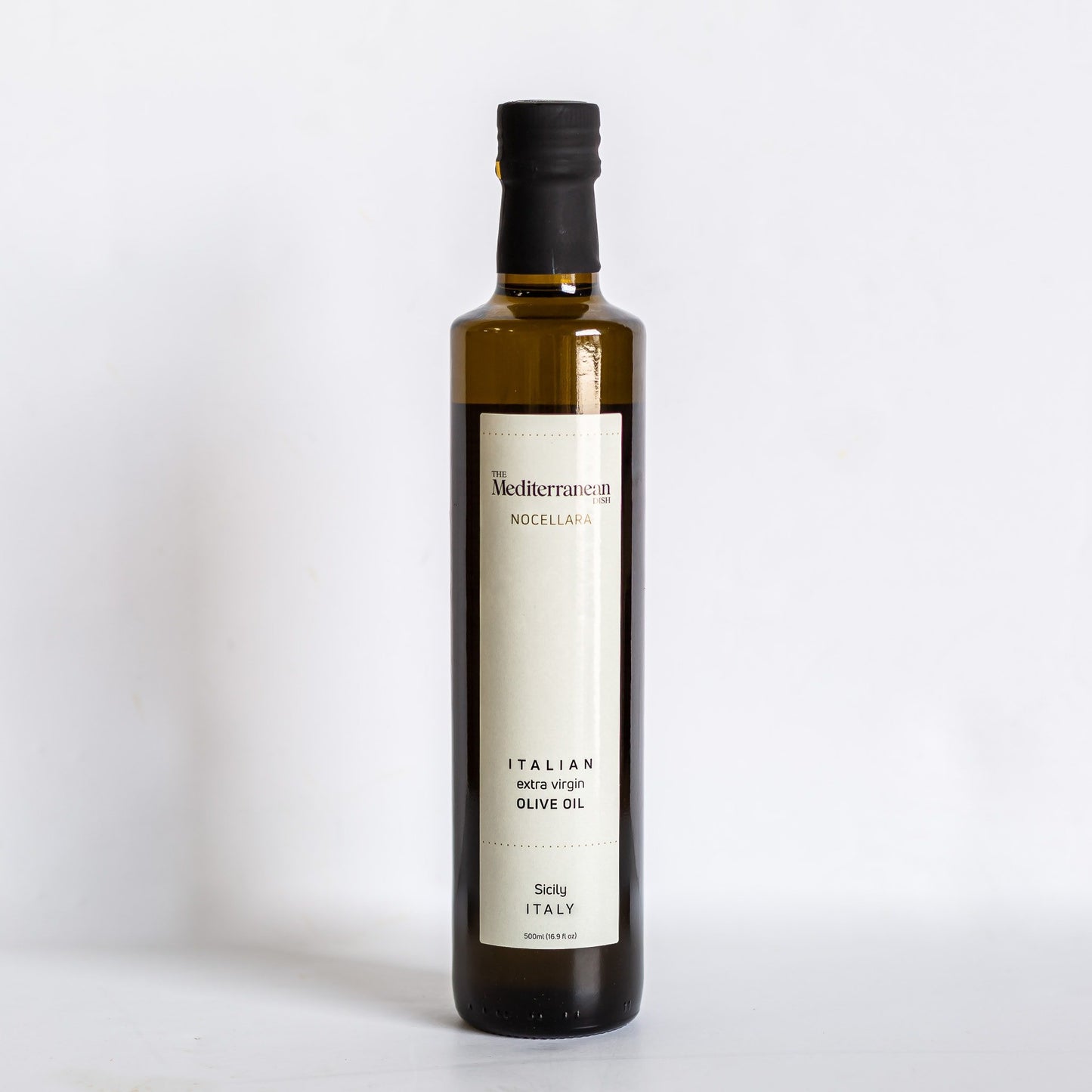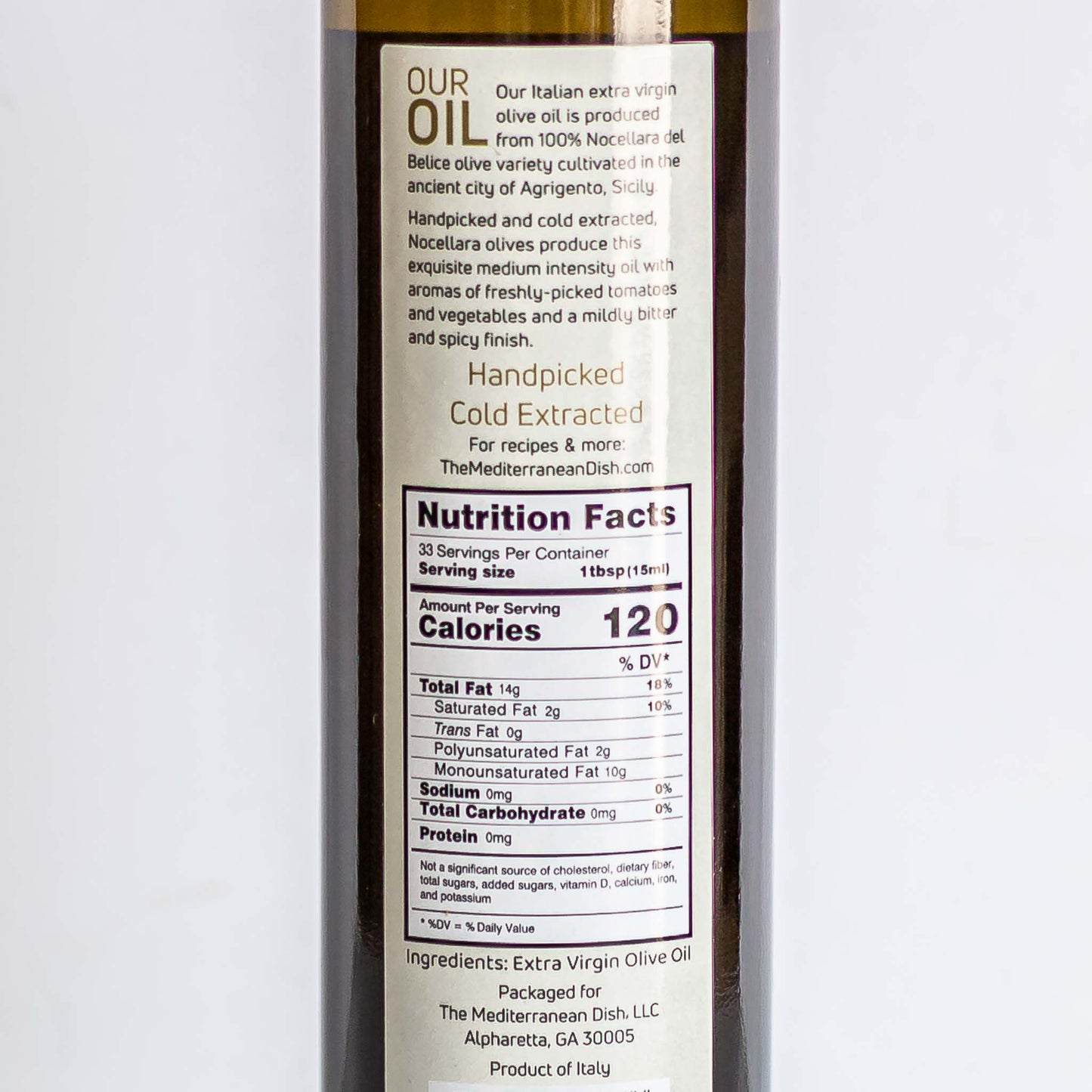 Why buy from us?
High Polyphenols
All our olive oils contain higher polyphenols than the average store-bought olive oil. This means our olive oil is loaded with antioxidants and powerful anti-inflammatory properties.
Early Harvest
Our olive oils are produced by olives that are harvested early before they ripen, ensuring they have bolder flavors and higher levels of polyphenols.
Single-Source
Our producers partner with small family estates from a single region, producing a far superior olive oil than average.
Delicious Stuff
Prior to discovering MD, I never heard of sumac or harissa and now I love both of them. Sumac is great in salads and I really love the harissa with grilled chicken.
Nocellara - Italian EVOO
It is absolutely wonderful. It ups the level of all my cooking, so glad I found you and the perfect oils and spices plus the great recipes that I am enjoying.
Love it so much!!
Purchased the Nocellara olive oil and I just love it; it's fresh and tastful. I will buy more soon!!
Excellent and flavorful
I have ordered about 4 "batches ", meaning at least 3 oils at a time since I first discovered them. I am very much into healthful eating and the healthy effects of high quality olive oils. I have tried all the varieties and each one has a special place in my daily cooking. They are so flavorful I enjoy just eating/drinking a spoonful on its own. I have replaced 99% of butter with these oils, including in my baking.