Everyday EVOO Bundle
Regular price
$79.00
Sale price
$82.99
Unit price
per
Sale
Sold out
Description

New Harvest Fall 2022 | 500 mL each bottle

These signature branded olive oils are ones you can use for everyday purposes and comes with Nocellara Italian EVOO, Hojiblanca Spanish EVOO, Koroneiki Greek Organic EVOO, and Arbequina California EVOO.

Description

Our extra virgin olive oils are all 100% from the region specified on the label. None of our olive oils are filled with inferior olives from other regions of the world.

Learn everything you need to know about olive oil. What are the different types of olive oil? What's the best EVOO to buy? Is it good for you? Can you cook with it? How do you store it? This easy guide will answer all your questions and more!

Properly stored olive oil is best consumed within 2 years from bottling date.
Shipping & Satisfaction Guarantee

Returns

At The Mediterranean Dish, we want you to feel completely confident and satisfied with your purchase. That's why we offer a 100% Satisfaction Guarantee. If, for any reason, you are not completely happy with your order, we will gladly refund your purchase price. More details.

Please note during the cold winter months, our olive oils can sometimes freeze during transit and cause some of the natural waxes to separate from the oil, causing some cloudiness or floating particles. This is completely normal and does not impact the quality of the olive oil in any way. To thaw, simply leave the olive oil in room temperature. Do not in any way warm up the olive oil in a microwave or put it in direct sunlight. Olive oil is best stored in a cool dark room to preserve its life and quality.

Shipping

We typically ship orders within 1 business day of receiving it. Most of our packages will be shipped UPS or FedEx Ground and will be delivered within 2-5 business days. Occasionally we ship via USPS if the packages are lighter in weight.

A shipping confirmation with tracking info is provided as soon as the order ships. Check you spam folder if you do not see your shipping confirmation, or feel free to contact us at sales@themediterraneandish.com.

At this time, we do not ship outside the United States.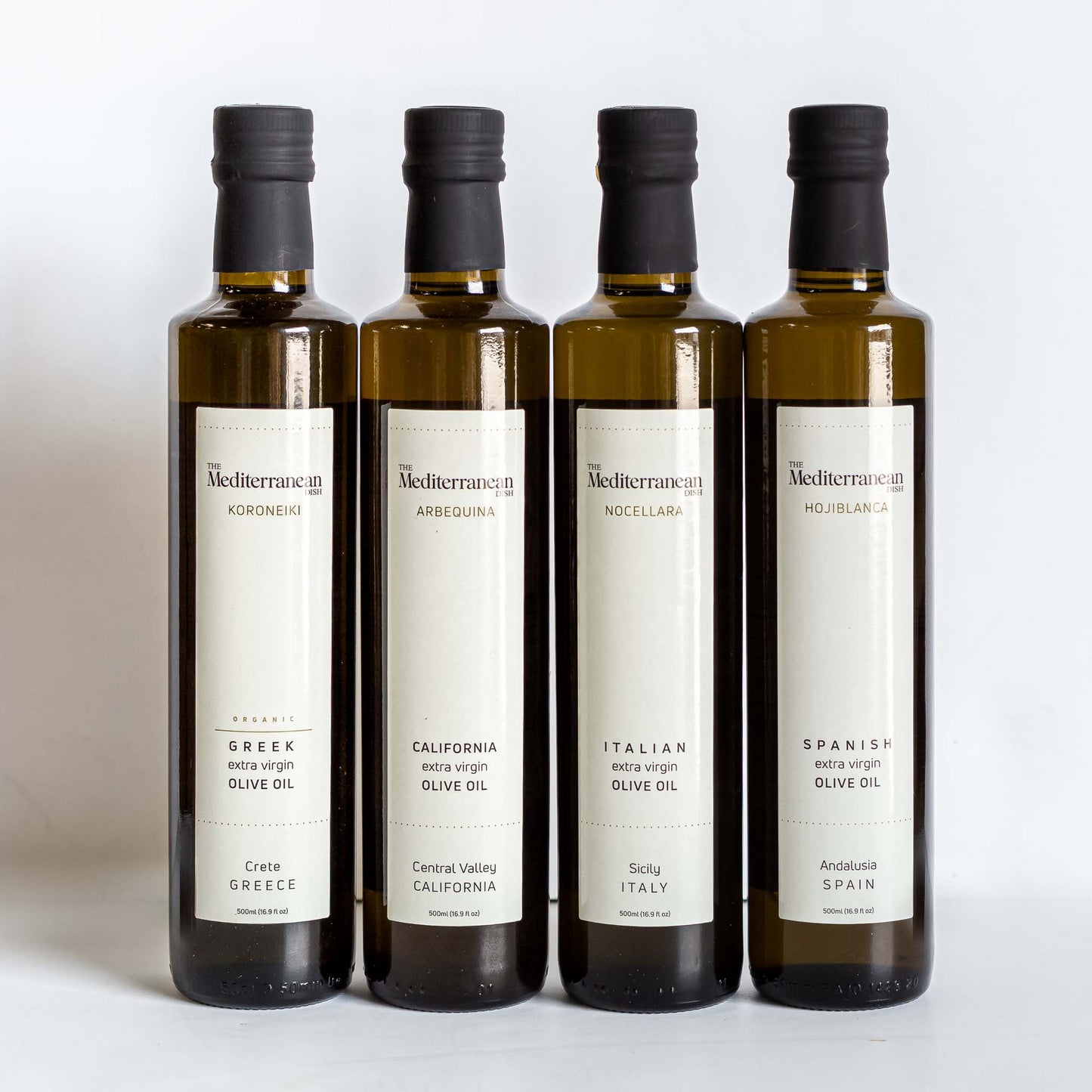 Why buy from us?
High Polyphenols
All our olive oils contain higher polyphenols than the average store-bought olive oil. This means our olive oil is loaded with antioxidants and powerful anti-inflammatory properties.
Early Harvest
Our olive oils are produced by olives that are harvested early before they ripen, ensuring they have bolder flavors and higher levels of polyphenols.
Single-Source
Our producers partner with small family estates from a single region, producing a far superior olive oil than average.
Did not receive the bundle
I ordered the bundle and was very excited to get it however when my order arrived the bundle of everyday olive oil was not in the package. There were several mistakes so I called customer service and explained to them that the contents in my package were incorrect. He said that he would take care of it and send me the bundle that I ordered along with another item that I did not receive but it has been awhile ago and I have not received my items regrettably. So I cannot rate the bundle. I can't imagine what the person was thinking who packed my order. Must have been an off day for them. I will not order anything else from your company until I receive the items that I paid for. Thank you for giving me the opportunity to review.
Hi Linda,
My apologies that you did not receive the items within your order. We had spoken over the phone last week and you were going to send me pictures of the items you received. I tried reaching out to you multiple times after our call to figure out which items were missing and haven't heard back. I will try reaching out again as we would love to fix this mistake for you.
We want to provide the best experience every time you order with us.
Best,
Thomas
The most important ingredient for a delicious meal!
I made our entire Thanksgiving meal from The Mediterranean Dish.I made the Ladolemono Greek Salad Dressing with the olive oil for the Orange Beet Salad with Arugula and Feta. I also used a bit of the olive oil in the Roasted Butternut Squash, Oven Roasted Sweet Potato with a Honeyed Tahini Drizzle and the Oven Roasted Carrots with Sumac. I rubbed the olive oil on the BEST Beef Tenderloin Roast. Last, but not least I made the Orange Cardamom Olive Oil Cake with this high quality olive oil. My family agreed that every dish was absolutely delicious! I highly recommend this olive oil set. You can taste the difference when you cook with these quality ingredients.
Amy
Oil
Love your oils!!! Been using them for quite a while now. Love the taste of all them!
Love love these olive oils. Very tasty