Organic Tahini by Soom
Regular price
Sale price
$13.49
Unit price
per
Sale
Sold out
Description

Soom Organic Tahini is silky-smooth and great for everything from dressings and sauces to smoothies and cakes. Soom Organic Tahini is made using premium sesame seeds roasted and pressed to perfection. Add to your favorite dish to enrich the flavor, depth, and nutrition. Soom makes food better! 

Tahini is a paste made from ground hulled sesame seeds. You may be familiar with our organic tahini paste from our hummus and baba ganoush recipes. But it is a key ingredient in many Mediterranean-style dressings, marinades, sauces, dips, spreads, soups, smoothies and desserts.


Use Soom organic tahini as a key ingredient to make:

Brownies
Cookies
Banana date shakes
Butternut soup
Salad


And much more! Or, you can use tahini to make a delicious, simple tahini sauce or vegan green goddess dressing to drizzle over your favorite dishes!
Shipping & Satisfaction Guarantee

Returns

At The Mediterranean Dish, we want you to feel completely confident and satisfied with your purchase. That's why we offer a 100% Satisfaction Guarantee. If, for any reason, you are not completely happy with your order, we will gladly refund your purchase price. More details.

Please note during the cold winter months, our olive oils can sometimes freeze during transit and cause some of the natural waxes to separate from the oil, causing some cloudiness or floating particles. This is completely normal and does not impact the quality of the olive oil in any way. To thaw, simply leave the olive oil in room temperature. Do not in any way warm up the olive oil in a microwave or put it in direct sunlight. Olive oil is best stored in a cool dark room to preserve its life and quality.

Shipping

We typically ship orders within 1 business day of receiving it. Most of our packages will be shipped UPS or FedEx Ground and will be delivered within 2-5 business days. Occasionally we ship via USPS if the packages are lighter in weight.

A shipping confirmation with tracking info is provided as soon as the order ships. Check you spam folder if you do not see your shipping confirmation, or feel free to contact us at sales@themediterraneandish.com.

At this time, we do not ship outside the United States.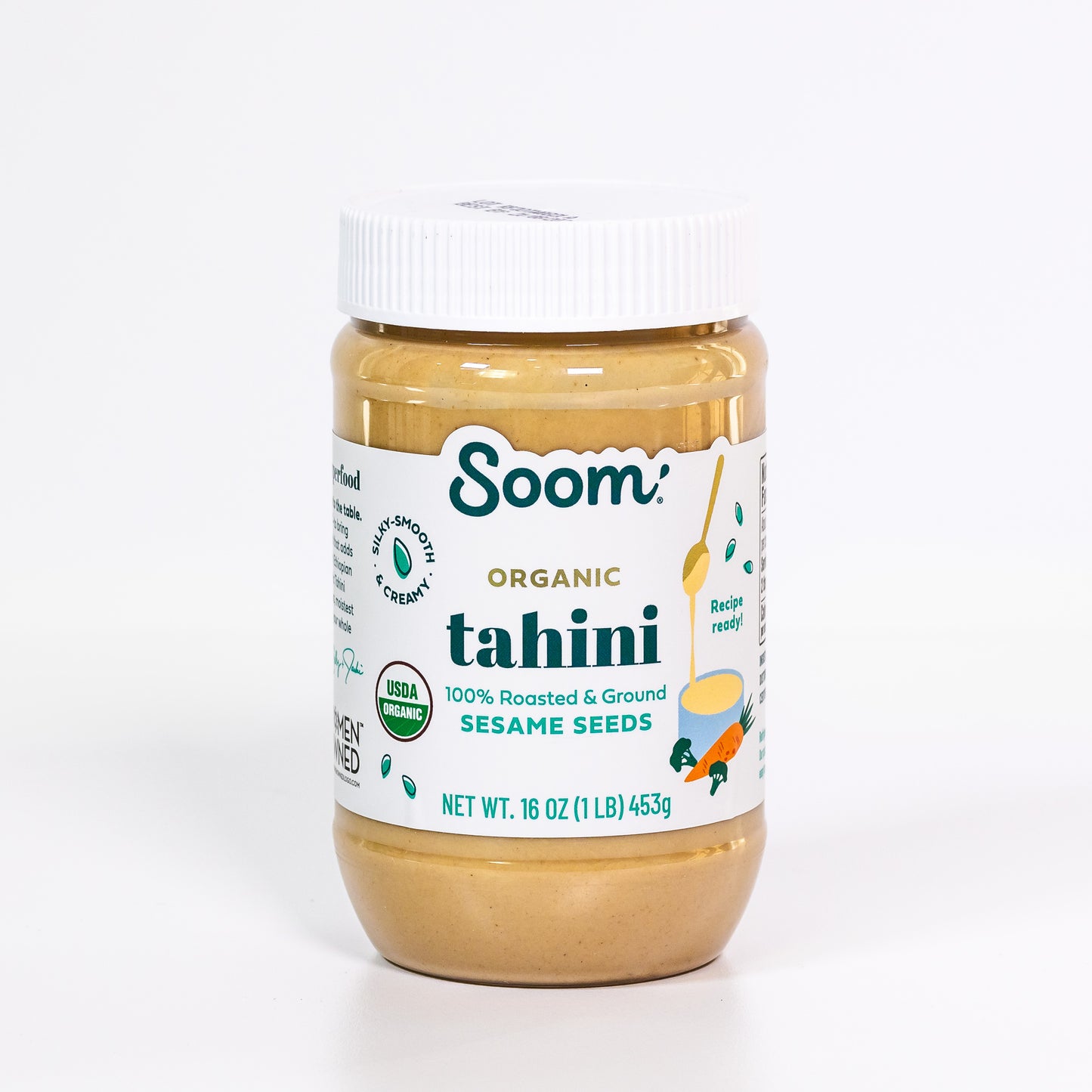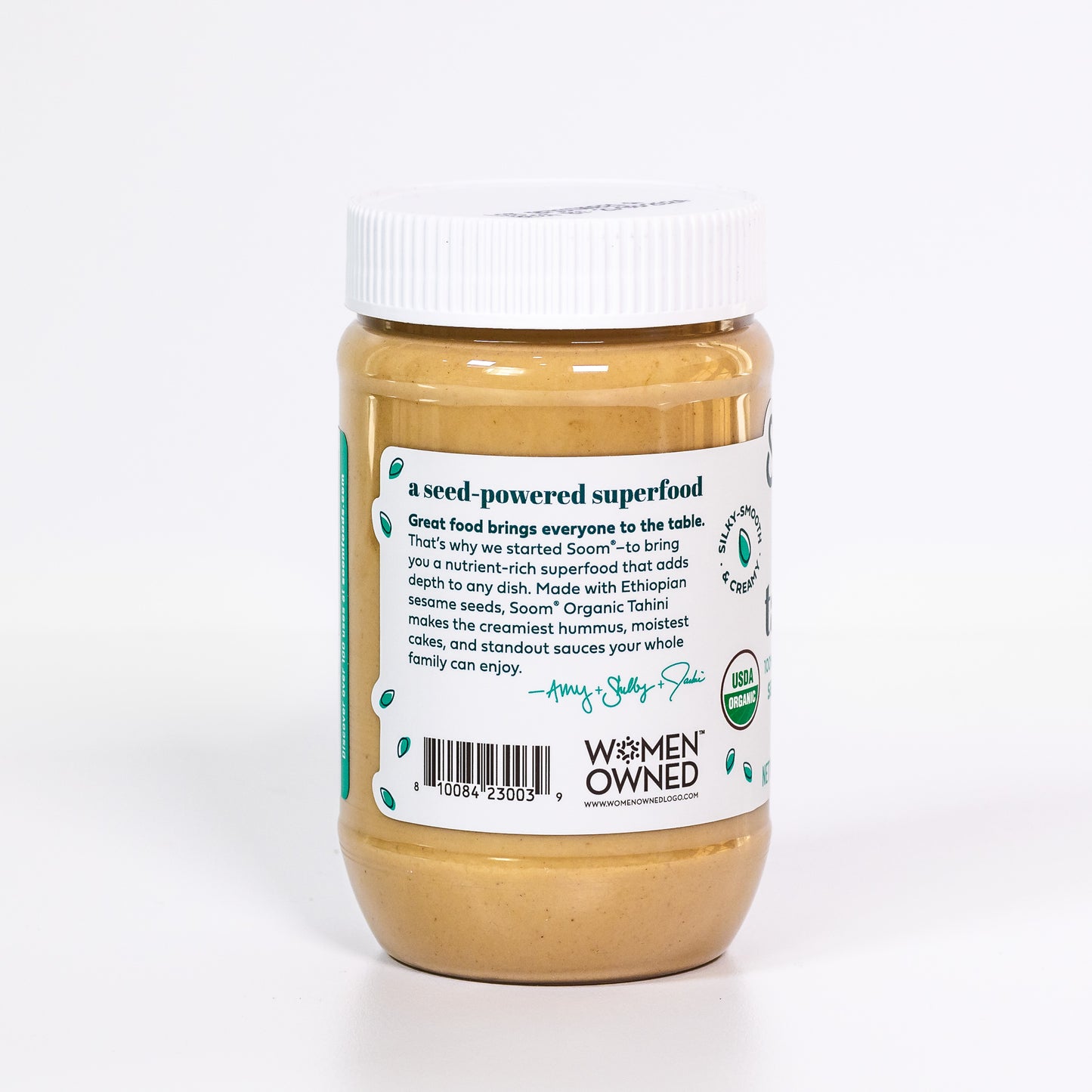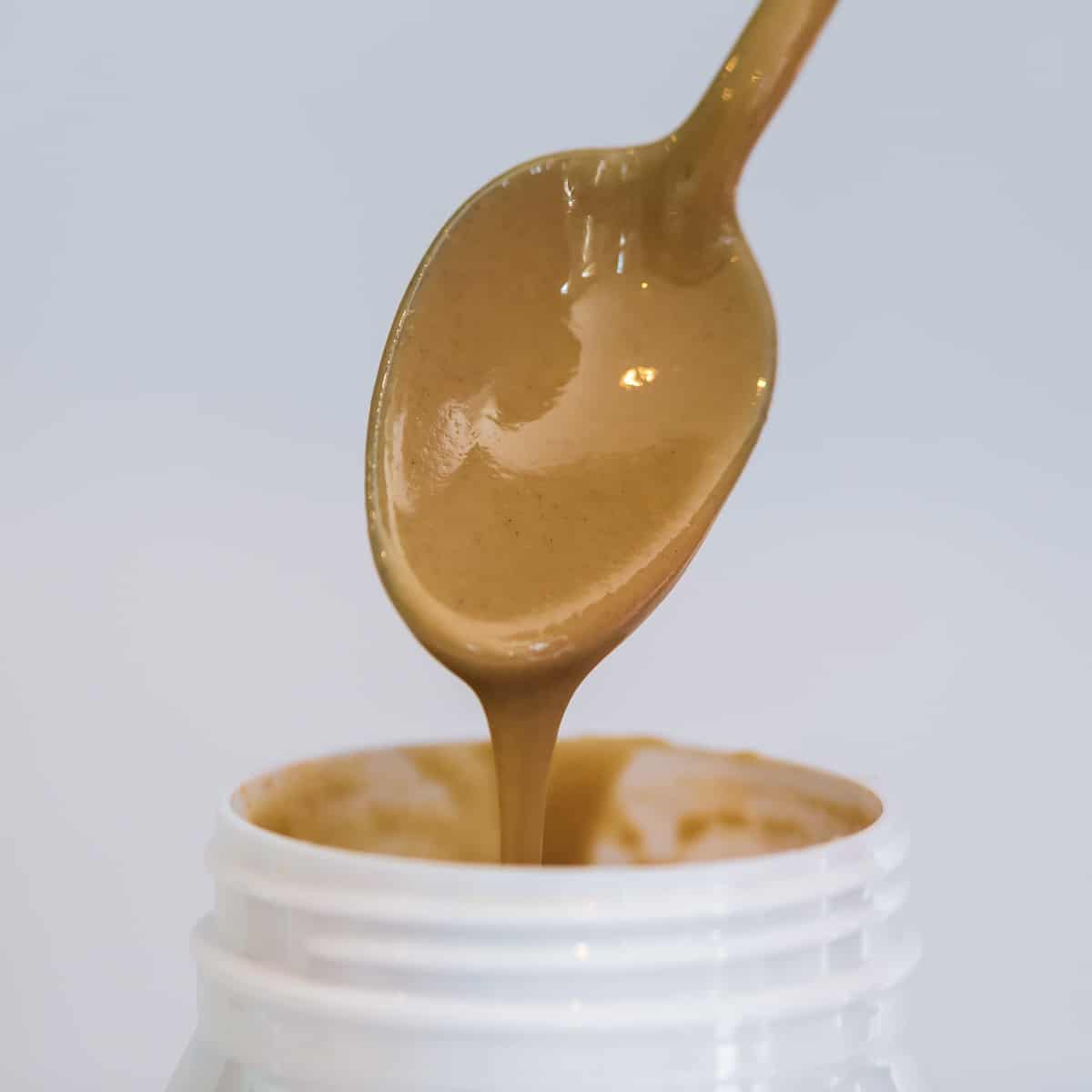 Why buy Soom Tahini?
100% Satisfaction Guarantee
We believe in our products. That's why we guarantee your satisfaction or your money back.
Silky-smooth Texture
We source organic seeds with a high oil-to-meat ratio and blend them to perfection. The result is a silky-smooth consistency that can't be beat!
Easy to Mix
Because of our premium seeds and special grinding process, Soom tahini separates less than the others. If you do need to mix, it's quick and easy, unlike those other rock hard brands.
New baked oats recipe with this product!! Amazing!!
Tahini - Yes
I love this tahini in the date shake. Very good👍
Smooth
I am very happy with the Tahini. It is easy to work with to the desired consistency. The taste is great. I made some hummus with it and it tastes great with the garlic I added.
When I use it i'll review it
New to this product.
This is the first time I have ever used tahini. I really enjoyed it. It stated like I thought it would from being made from a seed. I would recommend this product to anyone who wants to use tahini in their cooking.
Just remember to shack it and stir it well before using. Leaned it the hard way. LOL 😂